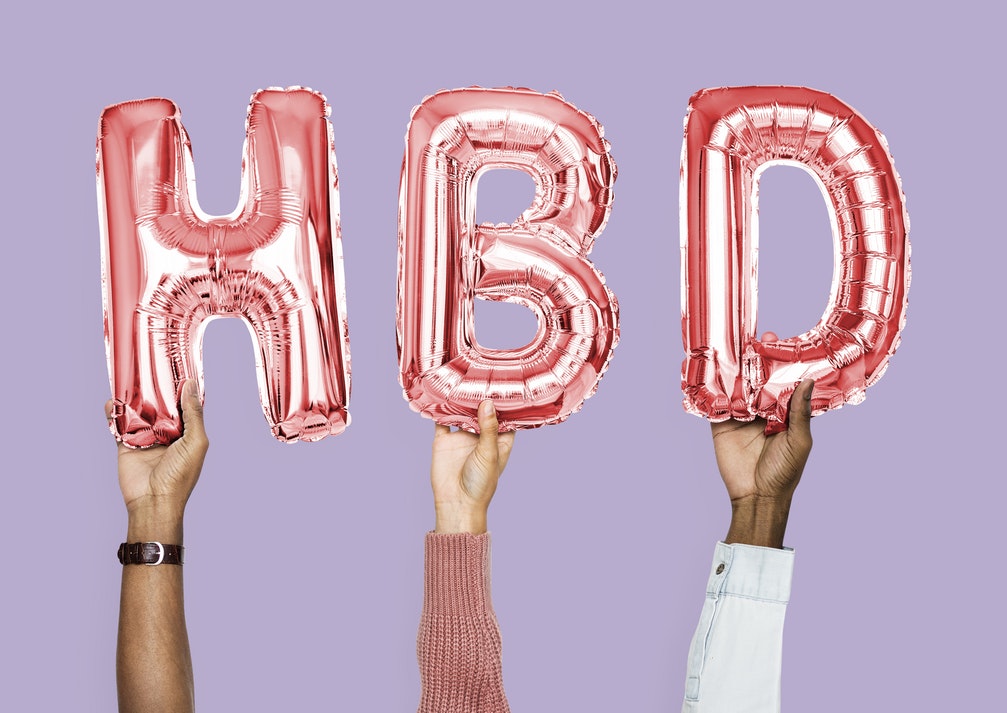 Collect a whopping $111.18 worth of free stuff. Here's everything I got, from lowest to highest dollar value.
Cold Stone Creamery
Item: Small chocolate ice cream with M&Ms
Value: $1.40
My rating: 1/5 stars
I signed up for Cold Stone's loyalty program online, which promises a buy-one-get-one coupon on your birthday. Although I created my account well ahead of my birthday month, the coupon never arrived in my inbox. Undeterred, I went to the store anyway to see if they were able to look up my account.
When I explained the situation, the employee said she'd go ahead and give me a birthday deal. I ended up paying $5.99 for my chocolate ice cream with M&Ms, but she knocked 20 percent off, saving me around $1.40.
Rita's Italian Ice
Item: Regular watermelon Italian ice
Value: $1.84
My rating: 4/5 stars
I signed up for Rita's Birthday Club online and received an email for a free regular Italian Ice, which expired seven days after the offer arrived. Because Rita's is a seasonal treat, they allow those with birthdays in the winter collect their free ice on their half-birthday.
I enjoyed my watermelon ice a few days after my birthday while visiting the Jersey Shore with friends.
Dunkin'
Items: Two glazed chocolate donuts
Value: $2
My rating: 2/5 stars
Users of Dunkin's rewards app are eligible for a free treat on their birthday. The catch: You have to add money to the app's balance before you can score any deals. Because I'm not a coffee drinker, I didn't want to spend money just to get something "for free," so I downloaded the app but didn't add any cash to it.
Although I technically hadn't earned the reward yet, I decided to stop by Dunkin' to see if they'd be willing to give me a perk anyway. A kind employee explained that she couldn't treat me to any free drinks, but she offered me a donut on the house.
Even better: She slipped me not one but two glazed chocolate donuts.
Baskin Robbins
Item: Small cone of mint chocolate chip
Value: $2.60
My rating: 4/5 stars
Baskin Robbins' Birthday Club gets you a free kids' size cone or cup on your birthday. But being nice goes a long way: The employee on duty gave me a wink when she took my order and handed me a small scoop of mint chocolate chip instead of a kid's size.
Arby's
Item: Small vanilla milkshake
Value: $2.99
My rating: 4/5 stars
Arby's birthday perk was the simplest to redeem. I walked in, told the manager it was my birthday and received a small vanilla milkshake, free of charge. The process was seamless and the result was the perfect way to cool down on a scorching August day.
Krispy Kreme
Items: One chocolate glazed donut and one plain glazed donut
Value: $3.18
My rating: 4/5 stars
To access Krispy Kreme's birthday rewards, you have to download their app and sign up for their loyalty program there. When I did this I was able to take advantage of two deals: A free birthday donut and a free introductory donut for first time users.
If you're counting, yes, I did end up with four donuts in one day. No complaints here.
Panera Bread
Item: One brownie
Value: $3.26
My rating: 4/5 stars
I've been a member of Panera Bread's MyPanera Rewards program since 2014, so I knew I could expect a freebie on my birthday. The company emailed me a coupon for a free pastry or sweet, valid for one week from my birthday.
All of Panera's baked goods were fairly comparable in price, so I chose the item that looked the most indulgent: an iced chocolate fudge brownie.
Sprinkles Cupcakes
Item: One sprinkle cupcake
Value: $4.25
My rating: 3/5 stars
Sprinkles Perks members get to enjoy a free cupcake on their big day. I visited a Sprinkles kiosk outside of Penn Station, showed my birthday email and got to choose any cupcake I wanted.
To celebrate nearing the end of my birthday freebie extravaganza, I chose a vanilla cupcake covered in actual sprinkles.
Starbucks
Item: Vanilla sweet cream cold brew
Value: $4.84
My rating: 3/5 stars
Starbucks is well-known for its rewards app, which offers users any free drink on their birthday. Because there's no price limit, it's a chance for frequent customers to upgrade to a more expensive beverage on their special day.
I signed up for Starbucks' rewards program, downloaded the app and added a Starbucks gift card I already had to it. Although the app said I'd earned a free birthday drink, I couldn't click through to it.
The barista didn't mind and gave me the drink on the house anyway: venti vanilla sweet cream cold brew. Even though I don't drink coffee, I chose an expensive concoction to test the limits of the birthday reward, then shared the beverage with my coworker.
Au Bon Pain
Items: Chocolate muffin and 24-ounce iced strawberry lemonade
Value: $5
My rating: 4/5 stars
After signing up for Au Bon Pain's online rewards program, the chain emailed me a coupon for a free coffee and pastry during the week of my birthday. The coupon specified that I could choose any bakery item and any size hot coffee or tea, 24-ounce iced beverage or 16-ounce specialty beverage.
I gladly stopped by for a chocolate muffin and opted for an iced strawberry lemonade.
Jamba Juice
Item: 12-ounce Apple n' Greens smoothie
Value: $6.49
My rating: 5/5 stars
Because I signed up for Jamba Juice's online rewards program, I received a coupon for a free 12-ounce juice or smoothie, valid for 30 days. Since I knew I had a sugar-filled week ahead of me, I chose a green smoothie option packed with kale and peaches.
Sbarro
Items: Two XL slices of New York pizza
Value: $7.98
My rating: 4/5 stars
Sbarro's Slice Society rewards its members with a free slice of XL New York Pizza or Roman Style Pizza on their birthday, valid for up to two weeks. Since I was new to the Slice Society, I was able to take advantage of their introductory offer: a free slice with the purchase of any beverage.
Although I paid around $3 for a Pepsi, I walked away with two hefty slices of pie for free.
Moe's Southwest Grill
Items: 'Homewrecker' burrito and chips
Value: $9
My rating: 5/5 stars
I'd heard that Moe's gives out free burritos for birthdays and I was not disappointed.
To get it, I signed up for Moe's Rockin Rewards program and downloaded the app. My birthday perk appeared there and all I had to do at the store was show the app to the cashier in lieu of payment. I also made sure to call ahead, as not every franchise participates in the deal.
Moe's ended up being one of the best deals of the day. Between the burrito and accompanying chips, I got a complete and filling meal for free.
Godiva Chocolatier
Items: Four chocolate bars
Value: $10
My rating: 5/5 stars
Godiva's rewards program proved to be one of the best values of the day. The company emailed me a $10 voucher that could be used both in stores or online. I headed to a nearby location and picked up four of their classic bars, which retail for $2.50 each.
Mario Badescu
Item: Rosewater facial spray
Value: $10
My rating: 3/5 stars
As a benefit of signing up for their mailing list, skincare company Mario Badescu emailed me a promo code worth $10 on my birthday. Although my birthday was in August, it didn't expire until well into September.
I used the code right away to order a bottle of the facial spray with aloe, herbs and rosewater, which retails for $7. With shipping and tax, the total came to just over $13, so I still had to pay a few bucks, but overall it was a good deal.
Sephora
Item: Bite Beauty sampler kit
Value: $15.35
My rating: 4/5 stars
Sephora's Beauty Insider program is popular for its annual birthday giveaways, which I've collected for several years now. When I stopped by in 2018, I got a sampler from Bite Beauty, which included a miniature lip crayon, miniature lipstick, lip balm and lip scrub.
Benefit
Item: Eyebrow wax
Value: $21
My rating: 5/5 stars
Benefit's free eyebrow wax was hands-down the best value I found all day. I love getting my eyebrows done at the company's brow bars, but costs can add up quickly. For my birthday, the procedure was free — all I had to pay was tip.
Original Article can be found here https://www.cnbc.com/2019/01/25/where-to-get-free-food-make-up-and-services-on-your-birthday.html written by Emmie Martin Associate money editor, CNBC Make It